Content Marketing - the what, the why, the how
Content Marketing is excellent for generating & distributing content for your market to help raise conversions and engage with them. It is a simple way to entice your customers and inspire them to purchase your services or products. Our talented and experienced team of content writers & marketers who analyze your business requirement and produce content based on research aligning it with current SEO needs.
"Content is the king". Ever thought, why is there need for excellent quality content? Wonder – Why it is stated that the heart of digital marketing is content? Our team helps to engage with your potential customers.
It is very essential to persuade your customers to purchases from you and for that; you require connecting with your faithful audience.
Content Marketing plays a crucial role when building a devoted customer base.
We are the best Content Marketing Company in Pune as our strategy is commendable and focused on increasing ROI.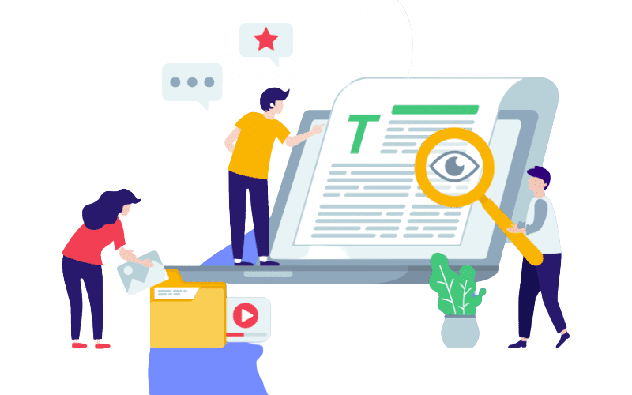 What it is:


Content curation:

The act of continuously distilling all material information on a topicinto an editorialized narrative that benefits your audience makes realize of the Big Picture.
What it does:


Done well,

content marketing

is the witchcraft that marketer's dream of. It separates your brand from the pack–making you the go-to source for relevant material and wisdom on your topic. It appoints you to the helpful position of thought leader. On the tactical side of content curation.
Why it works:

Content Marketing

It works because it satisfies a desire in the marketplace. Everyone is suffocating in the deluge ofContent you, your customers, your prospects, even your competition. If you can suppress the flood, you win.
How To get Clients with Content Marketing
Applying a method to the madness:


There is a consistent, time-tested process used by professional
curators regardless of topic or audience:
In case you have any remaining worries, here are some convincing matters about the two most commonly misinterpreted "risks" of content curation & content marketing: 
Ethics: Create, curate, but don't pirate
Eliminate any ethical concerns by following these basic rules:
1. Do not duplicate any information in its entirety. Publish abstracts that concentrate on the details pertinent to your market. Curated content is like the teaser sample you hear before buying a new song.
2. Curate content from an assortment of sources. Handpick the most important posts from many authorities; don't duplicate every post.
3. Always attribute! Include prominent attribution to the writer and medium and a link back to the original.
4. Provide context via description. Providing commentary differentiates your curated content from the initial source,
data, add value, and gains credibility.
5. Avoid nofollow tags. Make sure authors get the SEO benefits they're due for.
SEO: Myths that are present
1. One will be penalized for duplicate content. If you adhere to ethics rule #1, and produce only abstracts, this won't be an issue.
2. Outbound links damage SEO. The outbound links make you such a valuable resource. Finally, they will be neutralized by the inbound links of individuals referring to you.
3. Hosting curated content splits my page rank. Hosting curated content on a separate domain that refers to your topic really enhances your SEO impression and chances of shaking competitors down in search results.
4. Curating competitor content prompts customers to their sites. This actually puts you as a key industry resource and thought leader. It also provides you the chance to grab their traffic when your curated content comes up in search results ahead of their source content.
5. I'll be labeled a "content farmer." Content farmers push enormous volumes of inferior quality pirated content to stimulate organic search traffic. Curators serve their market by boosting value.
Content Curation Process- Your Cheat Sheet to Success
Step 1:
Identify – pick your topic
Step 2:
Follow – find your sources
Step 3:
Organize – review, filter, & categorize
Step 4:
Create – add value
Step 5:
Share – publish & promote
Getting Started
Your initial setup has to be done only once:
Step 1: Identify – pick your topic
• Decide what you want to be known for
• Think beyond your product and brand
• Make sure your topic is relevant, helpful, focused, and
important to your audience
• Play to your audience's interests, pain points, and needs.
Step 2: Follow – find your sources
• Locate your headliners
• Use a variety of discovery tactics to find new talent
• Create a lineup that includes opening acts and up-and-comers
• "Follow" your sources through multiple channels – RSS
feeds, e-mail subscriptions, and social connections
• Refresh your list by continuously finding and adding new players.
Step 3:

Organize – review, filter, and categorize
• Aggregate all your incoming sources by making smart use of
sorting, segmenting, and filtering tools
• Include a variety of sub-topics, sources, and opinions
• Include competitor content
• Create a quality user experience through the strategic use of
categories, sub-categories, and tags.
Step 4: Create – add value
• Put it in context – Add commentary to all your curated
content
• Don't be a diva – Engage in conversation with your audience
• Take your solo – Create original content inspired by curated
content and trends in audience interests and participation
• Balance the act – Create the right curated-to-created ratio
based on capacity – your audience's and yours.
Step 5: Share – publish and promote
• Abide by the rule: Curate, create, don't pirate
• Consider creating an independent brand for your curated
content
• Select venues based on audience consumption habits
• Integrate venues to reach a broader audience and maximize
content impact
Whether you're just launching out with content marketing or you've been practicing the same method for a while, it never harms to revisit your content strategy plan — make sure it's up-to-date, inventive, and powerful. After all, you've got more competition than ever. According to the Content Marketing Institute, the most rewarding B2B marketers report contributing 40% of their budget on content marketing. The initial step to having a leg up on the competition is to have a stable, sharp content marketing plan in place. If you're having trouble planning for the forthcoming year or require some fresh ideas to incorporate in your plan, contact us.
The importance of content marketing for the company finally gets converted into an impact on overall marketing ROI. The significance and importance of content belongs in the eyes of the audiences and individual 'buyer' and can spread from an entertaining value to a valuable answer to a challenge or a valuable experience of any separate nature.
All kinds of marketing solutions for you